FOR THOSE WHO WANTS TO MANAGE THEIR GHL AGENCIES AND CLIENTS
White Label HighLevel® Support & Services
If you want a fully whitelabel customer support and services or if you want to hire our expert for monthly/weekly/hourly for your help then lets start now
HOW WOULD YOU LIKE TO SPEND 0 HOURS PER WEEK LEARNING HIGHLEVEL® OR SUPPORTING IT FOR YOUR CLIENTS?
…We've got you covered.
We bundled all the goodness we created for ourselves into Sohoon Technologies, a complete resource that will give you the support and training you need to sell more & retain clients longer with HighLevel®.
#1 HIGHLEVEL SUPPORT LIBRARY
THE MOST ROBUST SUPPORT LIBRARY IN THE GAME, HANDS DOWN... EASILY SEARCHABLE & EVER-EXPANDING
UNLIMITED EMAIL SUPPORT
WE'RE HERE TO SUPPORT YOUR CLIENTS 24/7… WITH ABSOLUTELY ZERO ADDITIONAL FEES PER LOCATION
KILLER, READY-TO-USE SAAS SNAPSHOT
ALL THE WORKFLOWS AND AUTOMATIONS YOU NEED TO START SIGNING UP NEW CLIENTS
NEW FEATURE ANNOUNCEMENTS
WE KEEP YOU UP TO DATE WITH DETAILED EXPLANATIONS FOR EVERY NEW FEATURE AND UPDATE HIGHLEVEL ROLLS OUT
WEEKLY VALUE BOOSTS
WE'LL EMAIL YOU WITH NEW HACKS, SCRIPTS, AND INSANE VALUE TO MAKE HIGHLEVEL DO EVEN MORE FOR YOUR CLIENTS
CONSTANT SNAPSHOT IMPROVEMENT
WE'RE ALWAYS UPDATING, IMPROVING, AND ADDING TO OUR SNAPSHOTS, BRINGING YOU ALONG AS WE MAKE THEM BETTER
DEDICATED AGENCY CHANNEL
YOU AND YOUR TEAM WILL GET DIRECT ACCESS TO OUR AGENCY SUPPORT EMAIL FOR ROUND-THE-CLOCK PRIORITY ASSISTANCE
ZOOM AGENCY SUPPORT
WE ARE ALWAYS HAPPY TO HOP ON A VIDEO CALL AND GO OVER ANY SUPPORT QUESTIONS WITH YOU OR YOUR TEAM
MAKE HIGHLEVEL YOUR OWN
USE OUR VISUAL EDITOR TO MAKE YOUR WHITE LABEL HIGHLEVEL TRULY UNIQUE
THE FASTEST PATH TO CASH WITH HIGHLEVEL
CHURN IS A REVENUE KILLER... INCREASE YOUR LIFETIME VALUE BY ENSURING THAT YOUR CLIENTS ARE PROPERLY SUPPORTED
FUNNELS DESIGNED FOR CONVERSIONS
TONS AND TONS OF PROVEN-TO-CONVERT FUNNEL TEMPLATES FOR EVERY SINGLE NICHE
POWERFUL TRAINING COURSES
TOP-SHELF TRAINING COURSES WITH INSIDER NINJA TACTICS, GUARANTEED TO WOW
WE BELIEVE IN MAKING YOUR LIFE EASIER...
The key to maximizing the hours in your day and being more productive isn't to strap in and work harder… It's actually to equip yourself with the tools to do it better.
We handle more than just client support. We are experts in client satisfaction, funnel templates, and tons of other smarter-not-harder HighLevel shortcuts and ninja tactics.
🏆 SELL MORE AND RETAIN LONGER WITH Sohoon Technologies Support Center.
WE ALSO BELIEVE IN COMMUNITY...
THAT'S WHY WE SET OUT TO FOSTER THE BEST COMMUNITY OF HIGHLEVELERS
Sohoon is more than just an epic suite of HighLevel tools… It's grown into something much bigger. Sohoon is a family of SaaS-Kickers that receive top-shelf support… And they give it right back to the others in the community.
We are in the business of helping you grow yours, and that means being there to support not just your clients. We are also here to support each other.
WE BELIEVE IN CONSTANT IMPROVEMENT AND MAKING HIGHLEVEL BETTER
A world where HighLevel can instantly be translated into any language? A world where scrolling animations and award-winning website features are at your fingertips? A world where your clients are over-the-moon because of *your* amazing support team and you get hours back in your day?
That's the world we live in. We hope you wanna live in that world, too.
WHEN YOU JOIN THE HL PRO TOOLS FAM
UNLIMITED WHITE LABEL EMAIL SUPPORT FOR YOUR CLIENTS
DONE-FOR-YOU 24/7 EMAIL SUPPORT SO YOU SPEND 0 HOURS PER WEEK ASSISTING CLIENTS IN HIGHLEVEL
100% White Label 100% Of The Time
Fully Unlimited
ZERO Monthly Fees Per Location
24 Hour Support Across the Globe
Average Response Time of 3.5 Hours (Often Quicker!)
You Get the Credit
10x Cheaper and Better Than DIY
We act as part of your team, keeping everything completely white labeled and branded to your agency. Your clients will be raving about how fast and helpful your support team is… While you spend 0 hours learning Highlevel or doing Highlevel support. Our highly-trained support team operates in time zones all across the globe, 24 hours a day, with an average response time of 3.5 hours.
If you want to make your life 1000x easier by letting us handle client support (with totally done-for-you support messaging from highly trained HighLevel experts working 24 hours around the clock), then you'll love our white label support… And the best part is, YOU get all the credit.
AMAZING WHITE LABEL VIDEO SUPPORT LIBRARY
ALL THE FRESHEST HIGHLEVEL KNOWLEDGE AND SUPPORT IN ONE PLACE
100% White Label 100% Of The Time
Meticulous Documentation
Sleek, Professionally Edited Videos
New Features Covered Immediately
300+ Videos & Articles
Updated Daily
10x Cheaper and Better Than DIY
Your clients will get premier access to our robust, ever-expanding Support Library built out with hundreds of helpful videos and articles to answer all their HighLevel questions. So next time they have a support question, they can reference our library and find all the resources they need for answers. Our professional video editor is constantly adding fresh content to the library to cover all the latest updates and features with easy-to-follow voiceovers that assist clients through every step of the process.
ROUND-THE-CLOCK SUPPORT FOR YOU AND YOUR ENTIRE TEAM
Dedicated Agency Email Channel
Zoom Video Chat Walkthroughs
Priority Support 24/7
Quick Responses
We go beyond providing over-the-top support to all your clients… We're also always here for you and your team whenever any questions come up. We are happy to hop on a video call and walk you through any issues you come across any time. You can also contact us through our dedicated agency channel, and we'll get back to you quickly with a response.
We make learning and navigating HighLevel a breeze with team members available 24/7 for all your agency support needs.
TOP-NOTCH AGENCY EMAIL AND ZOOM SUPPORT
FROM THE TEAM THAT BUILT THE HIGHLEVEL® FUNNEL
100% White Label
Plug and Play SaaS Business
Based on the Official HighLevel Funnel
Text Onboarding Campaign
Advanced Trigger Automations
Our 100% white label, plug-and-play SaaS Snapshot takes away all of the heavy lifting so you can get marketing campaigns up and running fast. Get access to our expertly crafted SaaS Snapshot so you have all the workflows and the automations in place to have the ultimate oversight of all your leads. We actually based it on the Official HighLevel Funnel… and optimized it for simple, effective selling.
This Snapshot includes a text onboarding campaign to make fulfillment a breeze. Avoid abandonment by visualizing where the customer is in the sales process that flows seamlessly with advanced workflow automations… So that you understand what's going on with your business – at a glance, quickly and clearly.
85+ BEAUTIFUL, PLUG & PLAY FUNNELS
Industry specific funnels
All HighLevel websites converted to funnels
How to build a scalable product training
New funnels added monthly
We designed these fresh funnels to be simple to plug-and-play, but actually look and perform as professional, sleek websites. You can take this gold-mine of expertly designed funnels and start selling to happy clients tomorrow.
You won't have to spend thousands of dollars on custom design or labor for hours in the funnel builder. We've converted all HighLevel websites to funnels that you can use with ease. We also threw in a training on How to Build a Scalable Product. These funnels are ready-to-rock and get clients in any industry excited to buy… because they're designed and built by marketing experts. We also add new ones every month, so you can constantly keep it fresh.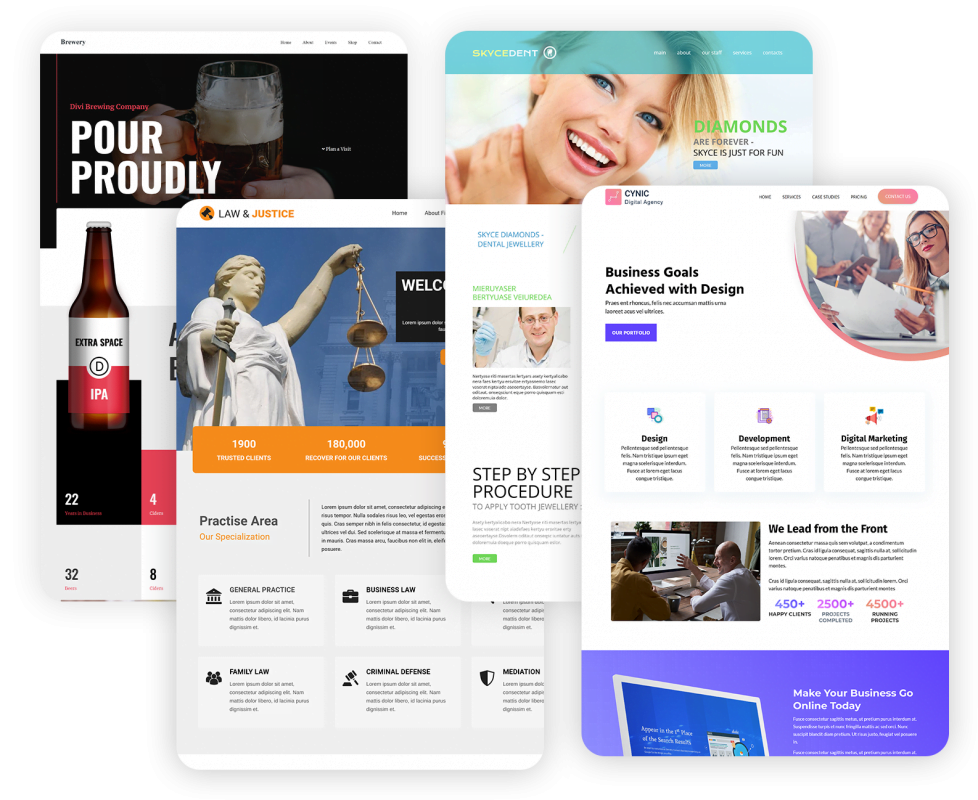 WHY STOP THERE? YOU WILL ALSO
We make customizing your HighLevel interface simple with Visual Style Editors. These tools give you the ability to personalize and edit your dashboard with your company colors and elevate your brand. You can also maximize your HighLevel experience by editing calendars, forms, and the Membership Area to perfectly fit your niche and dream clients… Talk about impressive!
Customize Across the Software
We're giving you a dashboard editor, calendar editor, form editor, and Membership Area editor.
Make Highlevel your own with style editors… Go Dark Mode or customize with any color to perfectly suit your niche.
Skip the CSS and easily personalize fonts, colors, and forms following our super-easy tutorial.
Get your reference key, tons of resources for your dashboard, calendar and forms, tons of funnel and website scripts, custom value hacks, integrations, widgets… The list seriously goes on and on and on. You'll get access to our long list of scripts and hacks in the membership area, including a cookie timed button, funnel animations, password protected funnels, auto trigger popups, custom value colors, custom value Google maps, and more!
We are constantly updating and adding to this area with out latest hacks, discoveries, and innovations, so you can keep improving.
Funnel Animations And More Awesome Scripts
You know when you scroll through a website and the elements glide in from the left and right and you think to yourself… Wow, this is *fancy*… That script is included.
We've written out the scripts for you with clear step-by-step instructions… So that anyone can implement it.
Unlimited Clients - Only $297
This would easily cost you thousands for all the value we've packed in above… But you can get started right now with Sohoon Technologies Support for just $297!
You can contact us anytime for any query or technical issue. You can also share your idea with us and we will polish your idea and offer you affordable and efficient solution of your problem. Our mostly clients are from USA, UAE, Pakistan, Kuwait, Ireland, and Canada but we are happy to work with clients from all over the globe. We deal clients only in the following languages: Urdu, English, Hindi, and Punjabi.