We helps agencies grow with reliable, scaleable, HighLevel support without the headache of finding expensive full-time staff or micro-managing VA's.
Hire a Expert To Handle Your GoHighLevel Business
Free up your time and stop hunting for specialized support. We've got you covered, from website and landing page design, account set-up, writing copy for emails and snapshot creation. Your team knows HighLevel!
Complimentary Services Providing More Value to Your HighLevel Clients
No need to create SOPs from scratch for every single task you do. No hiring and training headaches. No micro-managing freelancers hoping they "get it". You package your white label services anyway you like!
HighLevel Is Everything Your Agency Needs To Succeed.We bring all the things you need to solve your digital agency problems in one place.
Your Team Is Here To Support You
Your project manager will do the heavy lifting, updating you daily on the progression of tasks and making sure the right task gets assigned to the right specialist on your team.
Have weekly team check-in calls with your project manager who is always available when you need them, just as if they are sitting right next to you!
PLUS! We'll help you look like a hero to your clients by being proactive in providing you suggestions for improving your clients websites and funnels without you even having to ask.
Building The Agency Engine
All the tools you need in one platform without having to "duct-tape" multiple platforms together! CAPTURE Capture leads using our landing pages, surveys, forms, calendars, inbound phone system & more! NURTURE Automatically message leads via voicemail, forced calls, SMS, emails, FB Messenger & more! CLOSE Use our built in tools to collect payments, schedule appointments, and track analytics!
Ready-Made Reseller Packages And Plan Templates
Simplify your sales and marketing while doubling your profits, with "out-of-the-box" packages and plans you can plug-n-play.
From recurring maintenance, email and design plans to full website builds with funnels. Use the templates as they are or customize any way you want!
Our thriving community of the most successful and visionary digital marketers on the planet. Get all the training and resources you need to start or grow your digital agency.
MANAGE YOUR WORKFLOW AND PIPELINE
With our built-in Pipeline Management feature, you can keep track of where the leads are and what stage they are in the sales funnel.
COLLECT CUSTOMER PAYMENTS
We integrate directly with Stripe so you can collect payments on websites, funnels, and even when someone books an appointment.
ALL THE ANALYTICS & REPORTS IN ONE PLACE
Our dashboard keeps an overview of where the leads are, and how much money has been generated on each phase.
Create a thriving community for your agency or for your clients by using our Membership Platform.
FULL FEATURED COURSE MANAGEMENT
Build Full Courses with unlimited video hosting and unlimited users.
OFFER FREE AND PAID COURSES
With our full Platform you can sell courses or offer courses for free, all in one product!
UNLIMITED USAGE!
HighLevel offers unlimited users, offers, and products for your courses. You can create courses for your clients or for your own agency!
Automatically book leads and prospects to your calendar without lifting a finger.
AUTOMATED NURTURE CONVERSATIONS
Create text conversations with the goal of placing booked appointments on calendars WITHOUT any human interaction.
FULL CUSTOMIZATION OF MESSAGING
Use our campaign builder to customize the messaging.
ARTIFICIAL INTELLIGENCE BUILT IN
HighLevel allows you to leverage AI (Artificial Intelligence) and Machine Learning to manage the conversation.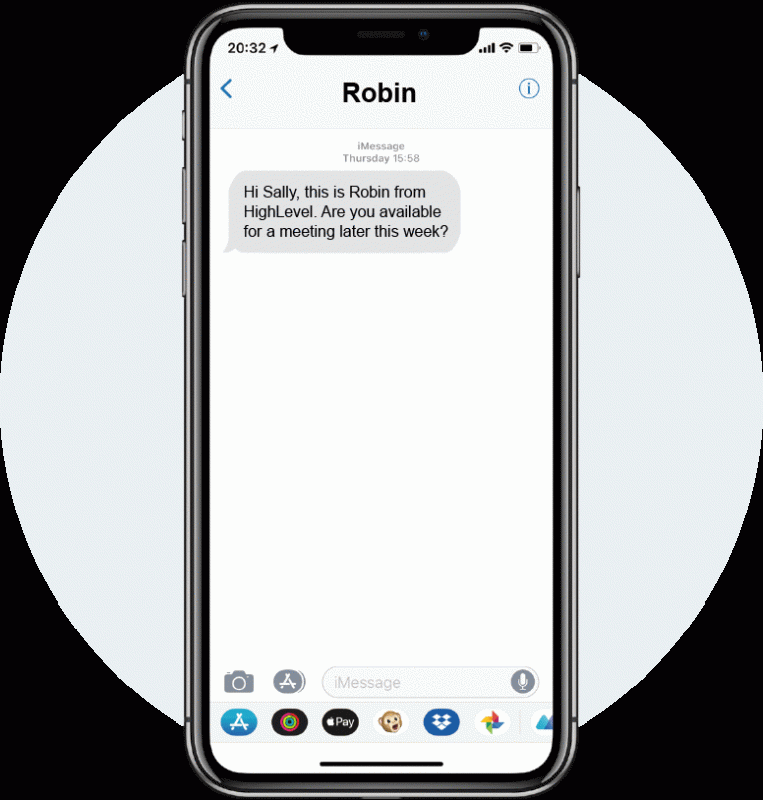 You can contact us anytime for any query or technical issue. You can also share your idea with us and we will polish your idea and offer you affordable and efficient solution of your problem. Our mostly clients are from USA, UAE, Pakistan, Kuwait, Ireland, and Canada but we are happy to work with clients from all over the globe. We deal clients only in the following languages: Urdu, English, Hindi, and Punjabi.