Custom UI/UX Development Services
Whether you need a website or an enterprise-level solution, we build functional products that people love to use.
Dynamic User Designs, Smarter User Navigation
The key to developing a successful app is marrying the functionality your users demand with an intuitive design and experience that make it as simple as possible to use. Chetu's custom UI/UX design experts will design the perfect desktop, mobile, or web application to meet your specific business requirements and industry needs. We design and develop innovative digital user experiences that solve complex business problems.
CRO & User Experiences Solutions
A carefully developed user experience is important to the success of an application. Whether your intention is to keep visitors engaged with your commercial app, or maintain a smooth consistent workflow for your employees on an enterprise platform, we construct simple and robust information architecture. Let us streamlines an organic process flow for conversion rate optimization (CRO). We carefully fine-tune elements throughout development to data capture and convert sales.

Usability Testing Solutions
Our usability testing experts optimize ease of navigation, user engagement, element functionality, consistency across multiple environments, integrations, implementations, and information flow by utilizing their UI and GUI testing methodology. We can perform white or black box user testing, depending on needs.

Mobile UI/UX Development Services
As part of our end-to-end mobile app development services, we provide crisp and highly responsive UI designs that fully leverage touchscreen functionality, as well as mobile-first user experiences for mobile (or progressive) web apps. We have experience developing native iOS and Android apps, as well as hybrid and cross-platform apps, leveraging frameworks like Xamarin, DevExpress, Ionic, Appcelerator and PhoneGap.
User Interface Design Services
We construct exquisitely responsive Graphical User Interfaces (GUI) that include highly responsive elements, 2D/3D animations and embedded media. It's our aim to provide an organic, unified user experience through our custom UI/UX development services. We accomplish that by collaborating with your stakeholders and IT team to develop a style (including color palettes, logo designs and layouts) that harmonizes with your company culture. All our UI/UX designers are experts in graphic libraries like WebGL and OpenGL.
IA Planning and Wireframing Development
Creating a user-friendly design and interface begins with identifying primary business goals and KPIs, laying the ground for an Information Architecture (IA) that satisfies users and meets performance goals. We use industry-specific analytical strategies and carefully developed user personas to generate insights that inform our wireframing and data flow structure models.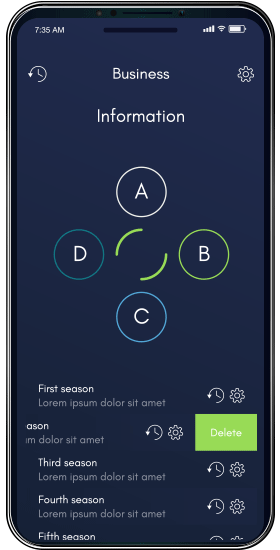 The stunning application interfaces we design are truly brought to life by our front-end development specialists, experts in key front-end languages (HTML5, CSS, JavaScript) and frameworks like jQuery, AngularJS, Node.js and Bootstrap. We make sure our tightly written code is optimized to work on multiple device types and browsers, and we forego programming shortcuts, like compression algorithms, that dampen or limit GUI elements.
Designed illustration powered interaction prototype for an app where a user on-board and add his favourite coffee flavours to the cart after making required customisations. Illustrations are done using Sketch and pixels made dance using InVision Studio.
Attendance Dashboard Report
Created an Interaction for Attendance Dashboard. Also created a microInteraction for Tabbar state change.
Milk Daily Hyperlocal App
See what happens when @Sketch meets @InVision Studio. Did some illustrations powered hyperlocal milk delivery app on-boarding concept for Mobikul – eCommerce App Builder.
Created an interaction prototype for a machine learning driven scan and search interface for eCommerce App Builder.
Web Implementation and Support Services Solutions
As a custom web development company, we offer the best development solutions utilizing multiple platforms. Our versatile desktop and mobile UI/UX development services leverage the full strength of these systems to provide computing power, enhanced graphics, robust security standards, and greater performance.
You can contact us anytime for any query or technical issue. You can also share your idea with us and we will polish your idea and offer you affordable and efficient solution of your problem. Our mostly clients are from USA, UAE, Pakistan, Kuwait, Ireland, and Canada but we are happy to work with clients from all over the globe. We deal clients only in the following languages: Urdu, English, Hindi, and Punjabi.